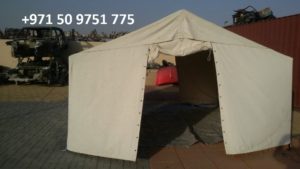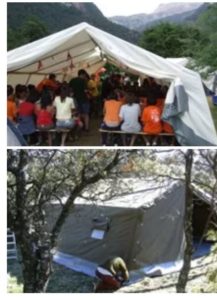 Dubai Large Tents for camps, military tents, tents civil protection, Red Cross tents, scouts shops
Our tents Area meet professional requirements. Manufactured for mobility and materials capable of withstanding a climate and harsh treatment.
lightweight and easy to transport materials.
Shops campaign strong, lightweight and strong. Fully armored aluminum and covered in fabric made of polyester and cotton 50%.
A wide range of models, with surfaces from 24 to 56 m², are our range of large tents .
All models are supplied with ventilation windows and carrying bags. They are waterproof and are treated with fungicides.
Our tents can optionally be supplied with fire retardant PVC or cotton covers and color, with accessories for attachment of various shops, with interior partitions, among other accessories.
To be used as military stores; shops civil protection; camps; tents for school camps; military camps; camping; scouts shops; shops emergencies; salvage shops …
Its value is excellent.
See Dubai stock for immediate delivery.